Description
Bring the microscope to your spectrometer!
Using a standard microscope for photoluminescence characterisation often means inefficient fibre-optic coupling to a microspectrometer, and difficult access for many sample configurations, such as side-emitting devices, or upright cryostats. Nor do standard microscopes offer flexibility for coupling multiple lasers for photoluminescence excitation.
HORIBA Scientific's MicOS merges microscopy and spectroscopy, to provide optimal coupling from the sample all the way to the detector. Available in down- or side-looking configurations for side-emitting devices or upright cryostats gives you flexible sample access. An optional, fully automated stage for mapping and sample-positioning is available. The MicOS offers a flexible platform for the use of multiple lasers for sample excitation. The system includes a vision camera so you always see what you are measuring.
Laser
The MicOS can be used with any combination of laser wavelengths, both single wavelength excitation and multiple wavelength excitations.  The laser sources may either be fibre coupled to the MicOS input or assembled in a laser train to free space couple the light into the MicOS.  Fibre coupling provides ultimate flexibility, and free space coupling provides the best possible spatial resolution with high magnification objectives.
MicOS Microscope Head
The MicOS microscope head includes all of the coupling optics for directing the laser to the sample and collecting the signal and coupling it to the spectrometer and detector.  It also includes a white light source for illumination of the sample and a vision camera for viewing the sample. The optical schematic below shows the layout of the MicOS head.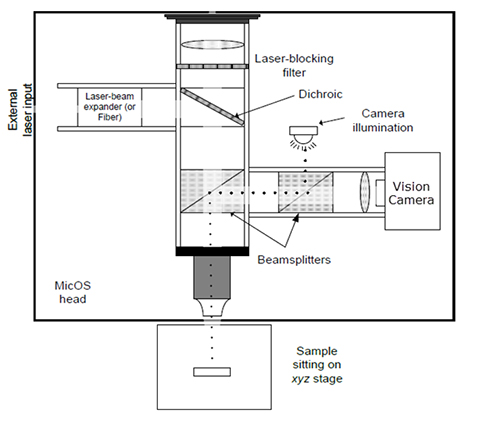 Spectrometer
A range of spectrometers are available for integrating into your own Raman experiment, with focal lengths and resolutions to suit all requirements – ranging from 140 mm to 550 mm and above.  Whether the application is for routine screening, fluorescence and photoluminescence mapping, or detailed high resolution Raman research, the microspectrometer to match is available.
High precision spectrometers with low stray light levels  and options for high spectral resolution
Gratings and sampling optics optimized for Raman
Upgradeable spectrometer platform ready to expand to fluorescence, PL, and optical spectroscopy
Detector
A range of detectors are available for integrating into your own Raman experiment, with different chip architectures and various degrees of cooling to suit all requirements. Whether the application is for rapid measurements or very weak Raman scattering samples, there is a detector to match.
High sensitivity CCD detectors for UV-VIS
Linear InGaAs arrays for near-IR response
Deep cooling for low dark current (thermoelectric or LN2 cooling)